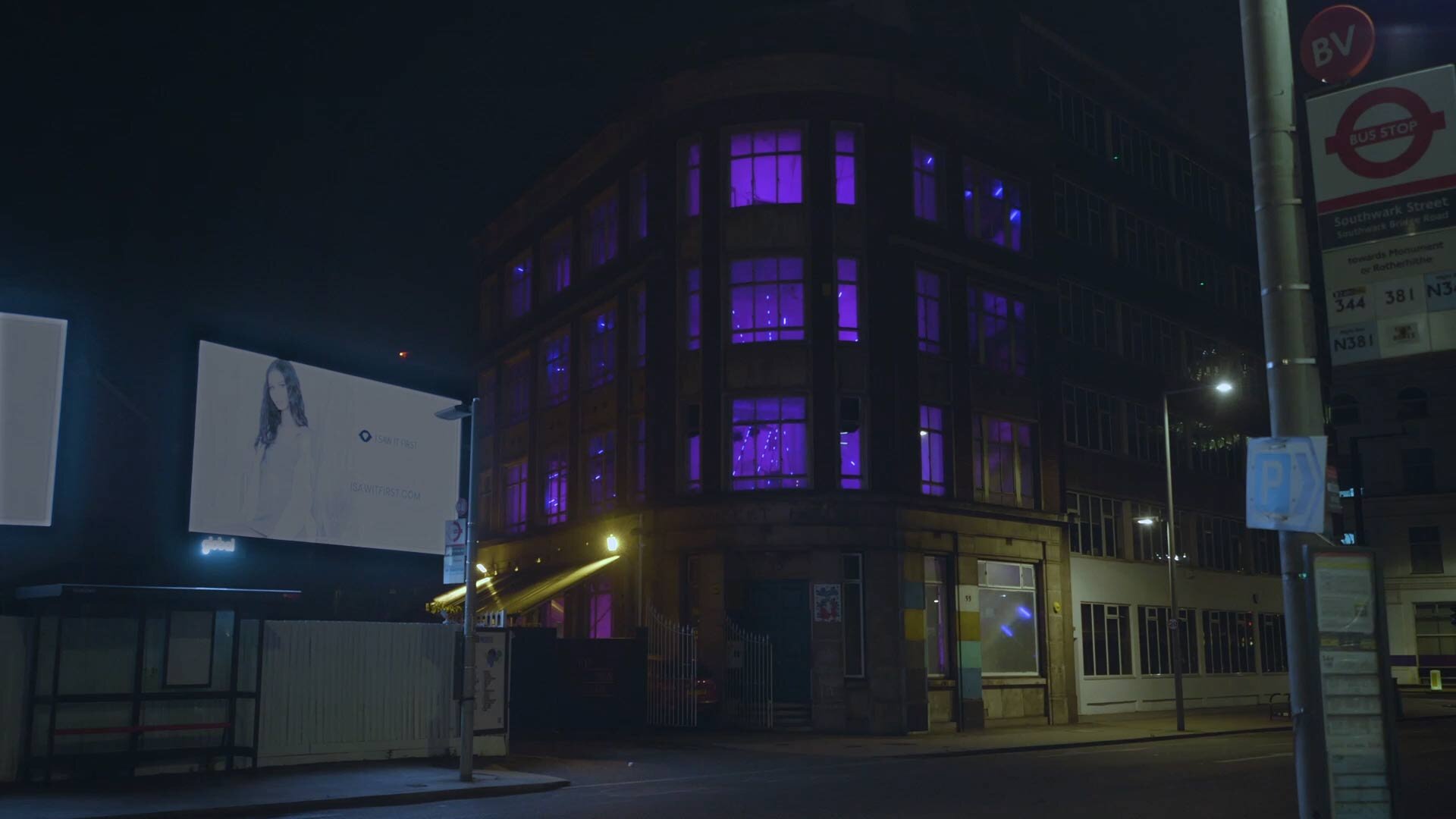 SCREAM THE HOUSE DOWN
Extended until 11th July due to demand

A SOCIALLY-DISTANCED ART INSTALLATION
BY MARCUS LYALL
You are invited to vocalise your inner frustrations and power a large-scale light installation. Join a Zoom call and watch your outburst illuminate a four storey office building.


ABOUT THE ARTWORK
With social distancing still in place and tensions continuing to rise, London-based artist Marcus Lyall has transformed a soon-to-be-demolished office block in London Bridge into an interactive public artwork. In this new site-specific work, Lyall invites you to join a Zoom call where you can scream, yell, shout or otherwise vocalise your feelings.
A monumental light installation instantly illuminates the building in response to your voice. The louder and longer your outburst, the bigger the response from the building. The building interprets every voice and scream differently, to create a unique response for each guest.
You can participate using any device that supports the Zoom app. The artwork is designed as a safe and constructive excuse for people to release their inner tension. 'Primal Scream therapy' has long been investigated as beneficial for psychological issues such as depression and anxiety. While the artist makes no medical claims, a long and loud shout may be a good way to relieve inner tensions.

16th June - 11th July 2020
Opening hours for participating
Tuesday - Saturday
8.30pm - 12.30am
Physical Address:
55 Southwark Street
London Bridge
London
SE1 1RU
The installation can be viewed from the street between 8.30pm-12.30am Tuesday - Saturday
Instructions for the optimum screaming experience on Zoom
1) One person can scream at a time. Sessions are limited to around 20 seconds. Bear with us admitting you to the call.
2) Make sure your microphone is turned on and your sound settings are correct.
3) Make sure video is turned on and you have positioned yourself in the centre of your camera.
4) Zoom seems to dislike some people's screams. If you have issues with the sound cutting out, try the following.
a) Go to 'Settings' in the Zoom app.
b) Hit the 'Audio' icon.
c) Hit the 'Advanced' box in the bottom right hand corner.
d) Disable 'Suppress Persistent Background Noise' and 'Suppress Intermittent Background Noise'
5) Please scream responsibly. If you think your neighbours might be concerned, let them now what you're doing (and ask them if they want to try it)
6) The building responds to the volume, pitch and length of your outburst. The longer it is, the brighter the building will light up.
Submit your scream
If you cannot attend during opening hours, you can send a short video of yourself to We will play all submissions on the building and post a Youtube link each day.
LIVE FEED
Tuesday - Saturday
(8.30pm - 12.30am)
All calls will be recorded for artistic purposes and may be used by the artist to develop future installations.
Marcus was heard discussing the project in a broadcast on Resonance FM on Sunday 21st June as part of Bankside Open Spaces Trusts - Great Get Together - this year due to current global situation instead of a live street party, they brought everyone together via radio with "The Power of Community" as its theme.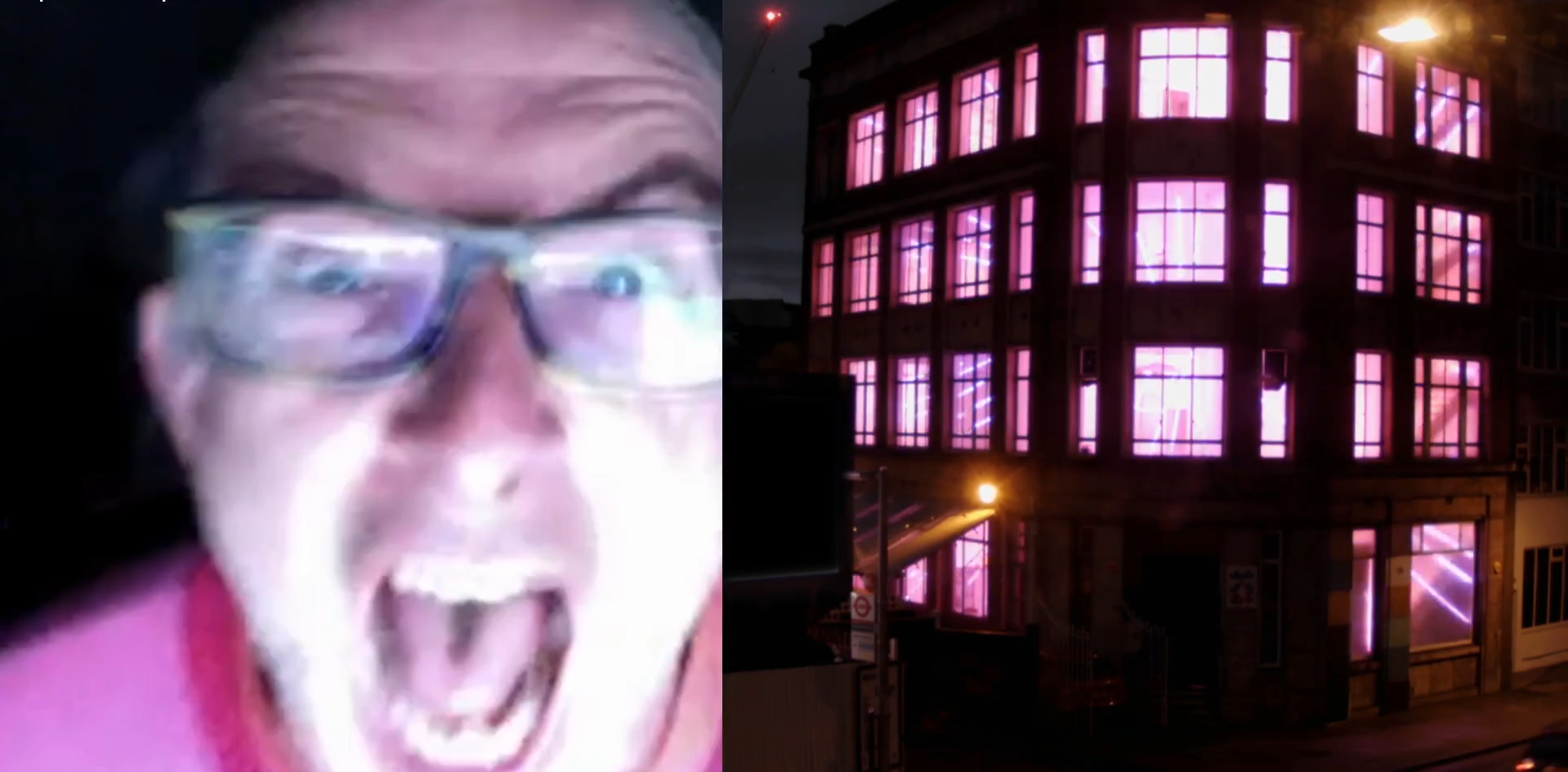 ABOUT THE ARTIST
Marcus Lyall has created experimental film and interactive projects for the last 20 years. Starting with live film shows during the heady days of rave, he moved on to specialise in making visuals for large-scale concerts. He now works on a range of moving-image projects, from award-winning stage visuals for The Chemical Brothers, to Metallica's feature film and directing a commercial starring Lionel Messi. He has created a number of artworks, which have been exhibited at galleries including the ICA, National Gallery of Australia, Seoul Museum of Modern Art, the Design Museum and Science Museum, London.
www.marcuslyall.co.uk
This installation is produced by not-for-profit arts organisation Illuminate Productions, in partnership with New Art Projects and Nursery Theatre. The project has been made possible thanks to individuals, organisations and companies that have generously given their time, resources and support including; Southwark Square, PRG, Geraghty Taylor and the National Lottery through Arts Council England.
About Illuminate Productions:
Illuminate Productions is a London-based not-for-profit arts organisation, developing opportunities for artists to create ground-breaking, high impact art installations and interactive experiences in unusual spaces to engage and inspire a universal audience. Through its participatory projects, they aim to provide culturally engaging activities that educate, challenge perceptions and make a positive impact in the community.
illuminateproductions.co.uk
New Arts Projects
New Art Projects is the contemporary gallery of Fred Mann. Through his gallery he seeks to support the work of emerging and mid-career artists internationally. The gallery recently hosted Marcus Lyalls' first solo exhibition of new installations and interactive works entitled "Test Subject"
http://newartprojects.com
About PRG
PRG is a leader in entertainment and event production specializing in wide-ranging solutions that help bring the world's greatest creative visions to life. From their early innovations in theatre, their expertise is now sought out the world over to solve the unique production challenges for a broad range of markets including live music, corporate events, film & television, theatre and scenic installations.
https://www.prg.com
About the Nursery Theatre
The Nursery is an improvisation theatre and training in school in London. They are a charity that have over ten years' experience performing and teaching improv around the world. They believe that, as well as being a lot of fun, improvisation can help anyone be more creative and confident. They also believe that financial barriers should never prevent anyone from getting access to quality improvisation training. The Nursery produces podcasts, blogs and materials for improvisers old and new and, in Spring 2020, will be releasing Improgo, an integrated improv training app with an exercise database, scenes engine and materials.
https://thenurserytheatre.com